Back to 2015 Annual Meeting Program
---
Migraine Headache as a Novel Risk Factor for Carpal Tunnel Syndrome
Huay-Zong Law, MD; Bardia Amirlak, MD; Jonathan Cheng, MD; Douglas Sammer, MD
Plastic Surgery, University of Texas at Southwestern, Dallas, TX
Introduction: Compression neuropathies have been associated with one another, and migraine headaches are being successfully treated by nerve decompression. The goal was to evaluate whether an association exists between migraine headache and carpal tunnel syndrome (CTS), the most common compression neuropathy.

Materials and Methods: Data from the cross-sectional 2010 National Health Interview Survey Sample Adult module were used to calculate nationally-representative prevalence estimates and 95% confidence intervals of CTS and migraine headache. Multivariate logistic regression was used to calculate adjusted odds ratios (aOR) and 95% confidence intervals (CI) for the degree of association between migraines and CTS controlling for known demographic and health-related factors. Analysis was restricted to adults at least 18 years old, to those with complete data for all variables, and to those of race/ethnicity groups large enough to be included in regression models.

Results: Of 27,157 respondents, 25,880 (95.3%) were included in the analysis. CTS was associated with older age, female gender, obesity, diabetes, and smoking. CTS was less common in Hispanics and Asians. Migraine headache was associated with younger age, female gender, obesity, diabetes, and current smoking. Migraine headache was less common in Asians. Migraine prevalence was 34% in those with CTS, compared to 16% in those without CTS (aOR 2.60, 95%CI 2.16-3.13). CTS prevalence in patients with migraine headache was 8%, compared to 3% in those without migraine headache (aOR 2.67, 95%CI 2.22-3.22).

Conclusions: Migraine headache is associated with carpal tunnel syndrome in a nationally-representative database. Because migraine headache is more prevalent at younger ages, and CTS more prevalent at older ages, migraine headache may serve as a predictor of developing future CTS. Identification of those with migraine headache may allow for earlier diagnosis, treatment, or even prevention, of CTS. Longitudinal and genetic studies with physician verification of migraine and CTS are needed to further define this association.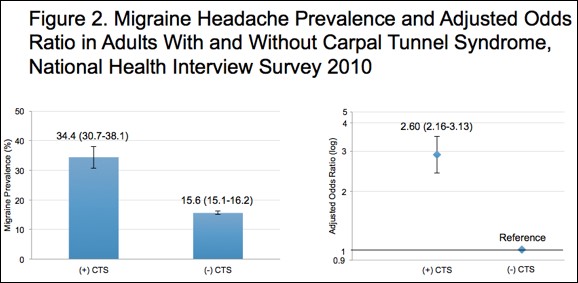 ---
Back to 2015 Annual Meeting Program