The Synapse editorial team members are thinking of all of you during these chaotic and uncertain times. We wish you much health, and we hope that this newsletter provides you a little bit of joy. Please take care of yourselves and one another. We're all in this together, and together we can make an impact on tomorrow! For those in North America, have safe and happy Canada Day and Independence Day celebrations!
---
Gregory Borschel, MD
Dear ASPN members and affiliates:
This year marks the 30th Anniversary of the founding of ASPN, which was established to encourage research and dialogue in the field of neural regeneration.
Diversity — Our Strength
. ASPN has, from inception, represented a diverse group of professionals, including therapists, scientists, and surgeons of all stripes, unified by their desire to improve the care of patients with nerve injuries through scientific investigation. We come from many states and many countries. (34 states, 22 countries). We value diversity of opinions and voices and we uphold this ideal as one of our core values. Why? Because it drives the field forward, leading to better understanding, better treatments, and better outcomes for patients with nerve injuries. Indeed, several studies in the commercial / business sectors have reported that a company's revenue is directly correlated with the diversity of its board (Forbes, 2020). The more diverse the backgrounds of the boards of directors, the more money a company makes. Likewise, ASPN has profited from the diversity of our collective backgrounds, resulting in unprecedented exchange of new ideas in nerve regeneration research and clinical care over the last 30 years. I can only wonder what our group will look like, and what amazing things it will accomplish by its 60th anniversary. Read full article include updates on the Annual Meeting and impacts of COVID-19 on nerve surgery and research.
Read Full Article
---
Wilson Z. Ray and Susan Mackinnon, Washington University School of Medicine
In 2005, Joan Didion wrote an account of the year following the sudden death of her husband John Gregory Dunne. "Life changes fast. Life changes in the instant… and life as you know it ends." The Year of Magical Thinking was immediately acclaimed as a classic book on mourning. Certainly 2020 began with optimisim and hope… 2020, perfect vision. However, "life changed fast and in an instant, when in March, life as we knew it ended" with the simultaneous triple global crises of a health pandemic, an economic collapse and a reckoning with social justice and racism. It is challenging to consider an upbeat newsletter as we mourn for our past life as it was, just five months ago.
Read Full Article
---
The Peripheral Nerve Universe we are talking about is not Astrology, although it does involve prognosis. It is not the Zodiac, although it does involve essential signs. Nor is it the Crab Nebulae, although our goal of achieving excellent nerve regeneration at times seem nebulous and light years away. Rather, we are talking about the seemingly infinite potential of those caring for patients with peripheral nerve problems to resolve chronic pain and the hopelessness of paralysis. Peripheral Nerve Surgery today represents a Universe of options. As Peripheral Nerve Surgeons and Educators, we have so much to offer: it is time to expand our own Galaxy of surgical providers.
We need to spend more time teaching Medical Students, Medical and Surgical Residents, Pain Management Physicians, and the General Public: teaching that there is hope for chronic pain other than opioids and hope for those with many problems previously thought not to be within the scope of our current Peripheral Nerve Surgery capabilities. We have the option of preventing ulcers, amputation, and hospital admissions for foot infections by decompressing lower extremity nerves in select patients with neuropathy. Today, the Peripheral Nerve Surgeon has options such as nerve transfer and joint denervation.
Read full article
---
This month we interview
Wesley Thayer
, MD, PhD, senior author of, Diffusion magnetic resonance imaging predicts peripheral nerve recovery in a rat sciatic nerve injury model, by Angel Farinas, Isaac Manzanera Esteve, Alonda Pollins, Nancy Cardwell, Christodoulos Kaoutzanis, Marlieke Bussenbaum, Mark Does, Richard Dortch, Galen Perdikis, and Wesley Thayer. The article is published in the June issue of
Plast Reconstr Surg
. Huge shout out to
Kevin Zuo
, resident at the University of Toronto, for completing this interview and contribution.
Read full article
---
Read about some of newest members of ASPN!
| | | | | |
| --- | --- | --- | --- | --- |
| Jana Dengler | Lisa Gfrerer | Petros Konofaos | Larry Robinson | Catherine Wee |

Jana Dengler, MD
Sunnybrook Health Sciences Centre
Toronto, Ontario

Lisa Gfrerer, MD PhD
Harvard Plastic Surgery
Boston, Massachusetts

Petros Konofaos, MD, PhD,
FEBOPRAS
University of Tennessee
Health Science Center,
School of Medicine
Memphis, Tennessee

Larry Robinson, MD
University of Toronto
Toronto, Ontario

Catherine Wee, OTR/L, CHT
Spaulding Rehabilitation
Cambridge, Massachusetts
---
Did you know? Who is Ramon y Cajal?
(First a digression — Ramon y Cajal is ONE person, not two — don't be fooled like I was in medical school when I first came across his name! And now on to more important items...)

You may be wondering, has anyone ever won the Nobel Prize in Physiology or Medicine for studying NERVES?? Of course the answer is, YES! And amazingly there have been quite a few — at least 10 times, namely 1906, 1932, 1936, 1944, 1963, 1970, 1991, 2000, 2004, and 2014.

So, who were the first trailblazing neuroscientists to win the award way back in 1906? And, why was their award like a modern-day reality TV show? (Oh, the drama!)

The winners that year were Camillo Golgi and Santiago Ramon y Cajal. Officially, the prize was awarded "in recognition for their work on the structure of the nervous system." Nowadays, we all know of Golgi for the protein-packaging intracellular organelle bearing his name. However, it was his contribution to staining neurons that garnered his sharing of the Nobel Prize that year. Ramon y Cajal was a big fan of Golgi's staining method, and used it to further advance the knowledge of the structure of the nervous system. You might think Golgi would be happy with this, right?!?! Wrong! Well, it turns out they were bitter competitors! Golgi espoused the "reticular theory" and felt strongly that the neurons were all interconnected in a reticular web, and not really truly independent cells. Ramon y Cajal, on the other hand, proposed the "neuron theory" that each neuron was an independent cell and separate from its neighbors — which turned out to be correct, much to the chagrin of Golgi! So if Ramon y Cajal was right, and Golgi wrong, why did the Nobel committee vote for the prize to be shared, rather than given outright to Ramon y Cajal? That we will never know!
---
| | |
| --- | --- |
| | |
| Kyle Eberlin, MD | Noah Raizman, MD |
By Kyle Eberlin, MD and Noah Raizman, MD
During the COVID pandemic, many peripheral nerve surgeons have used telemedicine to deliver care for both new and established patients. Virtual visits, once a negligible fraction of most practices, have become increasingly common and will likely remain an integral part of future care delivery.
Read full article
---
The editorial team at Synapse is pleased to introduce a new section by Dr. Aron Wahrman that will highlight historical gems. Thank you, Aron!!!
Forgotten Fascicles
by Aron Wahrman
(Occasional notes from an unapologetic bibliophile and indulged husband)
A search of the online archives at the University of Pennsylvania where I teach (archives.upenn.edu), yields little regarding Dr Paul Beck Goddard. There is no image nor mini-biography as is accorded to William Osler, D Hayes Agnew, Joseph Leidy or other Penn icons. Goddard was born in Baltimore on January 26, 1811 and received his MD from Penn in 1832 where he remained on faculty as a prosector in anatomy. In 1837, age 26, he authored this beautiful
Plates of the Cerebro-Spinal Nerves, With References, For The Use of Medical Students
.
Read full article
---
Upcoming meetings around the globe
14th World Congress on Controversies in Neurology (CONy)
London, UK
October 2-5, 2020

The 14th International Facial Nerve Symposium
Seoul, Korea
May 20-22, 2021
---
Penny for your thoughts?
Thank you to everyone who responded to the "Penny for your thoughts" in Issue 4. Results are depicted in the graphs below:
1) Do you treat patients with acute flaccid myelitis (AFM)?



2) In patients with AFM, do you feel comfortable
performing surgical reconstruction of the… (select all that apply).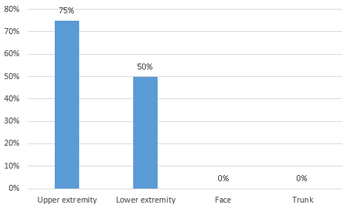 1) Do you treat patients with acute flaccid myelitis (AFM)?
2) In patients with AFM, do you feel comfortable performing
surgical reconstruction of the… (select all that apply).
Now for the next figurative penny...

Results will be shared in the next issue of Synapse!
---
Show me the money... research money!
Do you have great ideas? Do you love science? Well, then get your projects funded!!! Translate your ideas to projects! Create data to help us all! The ASPN Grants Committee has compiled valuable information to help fund your nerve-related science... follow the link to learn more! #scienceiscool
See the ASPN list of peripheral nerve funding sources!
---
I know you!
Here they are... your fearless 2020 ASPN Executive Council
---