From all of us with the Synapse Editorial Team, we wish you very Happy Holidays this season! With all of the challenges in the current state of the world, we hope you may find the peace, love, laughter, and hope that will bring us to a better 2021. Please stay safe and be well!
---
Message from the President
Gregory Borschel, MD
Dear ASPN members and colleagues: Despite the pandemic, we are still working away at ASPN to bring the nerve community together and serve as a forum for nerve researchers and clinicians.
As you can see, with Dr. Kristen Davidge we have developed a scientific program for the virtual 2021 program, complete with Hawaiian tropical themes. "
Nerve Week
" will highlight the work of our trainees, members, and special guests, with the theme of "Pain" — which seems somehow appropriate to close out 2020.
Thank you again to our Executive Council for all their efforts this year. Looking forward to seeing everyone shortly, and don't forget to bring your Hawaiian gear.
Greg
---
Have you heard about Nerve Week?
Kristen Davidge, MD, MSc
Greg and I are thrilled to be hosting the first ever virtual ASPN meeting:
ASPN Nerve Week 2021
!!! We have an exciting program lined up that will highlight the best features of our scientific program, including live debates, the ASPN poster session, and presentation of the best scientific papers. With zoom fatigue affecting us all, we have scaled down the meeting into short, high-impact sessions that have inclusive and wide-ranging appeal. ASPN Nerve Week kicks off on Friday, January 15th with the theme of "Pain", followed by a clinical nerve session on Wednesday January 20th, and then concludes on Friday January 22nd on the topic of "Translational Science in Peripheral Nerve".
We are excited to bring you two world-renowned invited speakers, Dr. Michael Salter and Dr. Molly Shoichet, who are experts in the science of pain and tissue engineering & drug delivery, respectively. Also don't miss the combined AAHS/ASPN webinar on Sunday January 17th, and the highlights of ASRM on January 16th & 17th!
Finally, although we all really wish to be on the beach in Hawaii in January, join in with a beverage of your choice for our Friday night social programming: On January 15, Jonathan Winograd will host the virtual mentorship reception, and on January 22, we will endeavor to bring a taste of Hawaii to your doorstep – Hawaiian attire is a must! (there may even be a contest…)
For the full program details, have a look at the
ASPN website and register online
– we hope to see you all in January!!
Kristen Davidge
---
---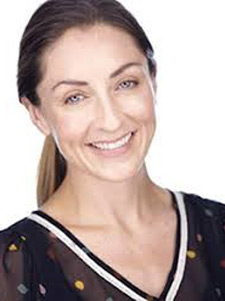 Vanessa Simmons, MD
by Vanessa Sammons
If you wanted to make a model of a neuron...
The body of a motor neuron is about 100 microns in diameter, the axon is about 1 metre in length. If you use a ping-pong ball to model the cell body, the axon would to be 380 meters (1,247 ft) in length. If you use a basketball, the axon would be 2.4 kilometers (1.49 miles) in length.
Fun facts...
The brain has approximately 100 billion neurons. In contrast, the spinal cord only has roughly 13.5 million neurons throughout its length.
Read Full Article
---
Noah Raizman, MD
by Noah Raizman
As 2020 draws to a close, the new parameters for Evaluation and Management (E&M) coding accepted by the Centers for Medicare and Medicaid Services (CMS) in their final rule for 2021 are about to take effect. The rules for grading E&M visits have not changed substantially in 20 years, despite continual complaints about the level of documentation required being far in excess of what is necessary, even for a complex visit with a specialist.
The outcome is good for peripheral nerve surgeons, as the burden of documentation goes down substantially. There is a little recognized downside, however. Despite the Relative Value Update Committee (RUC) recommending that, when the E&M codes were revalued, that increase in RVUs be applied to the office visits considered part of the global surgical packages, CMS declined to do so. This means that E&M visits have been given a higher value relative to surgical procedures, even though the valuation of those surgeries includes the subsequent office visits provided as part of the Global Surgical Package.
Read More
---
Forgotten Fascicles "THE HOLIDAY ISSUE"
by Aron Wahrman
Aron Wahrman, MD, MBA
(Occasional notes from an unapologetic bibliophile and indulged husband)
Some years ago, as the holiday season kicked off on shopping's "Black Friday", my wife Peg, as is her wont, turned to me and asked what I'd like for Hanukah. I don't recall if I turned away from her to hide an annoyed eye-roll; more likely, the question caused my eyes to mist and the tears to well, but I didn't want her to see my hurt and vulnerability. Yet- the question stung. Could this be my wife of decades, who was the core of my life and five children? I'd thought we were attached by the mind and heart- couldn't she figure out that all I desired was an inscribed copy of an obscure, Christmas parable written by the acknowledged father of American neurology?
Read More
---
Upcoming meetings around the globe
by Usama Farghaly
| | | | |
| --- | --- | --- | --- |
| Event | Date | Type | Website |
| ASPN Nerve Week 2021 & On-Demand Presentation Library | January 15, 17, 20, 22, 2021 | Virtual | meeting.peripheralnerve.org |
| 17th Annual Update Conference on Neurology & Clinical Neurophysiology | February 15-16, 2021 | Live | neurology-2021.isas.co.il |
| 17th Asian Oceanian Congress of Neurology (AOCN 2021) | April 1-4, 2021 | Hybrid | aocn2021.com |
| EuroNeuro 2021 | April 14-16, 2021 | Live | fens.org/News-Activities/Calendar/Meetings/2021/04/Euroneuro-2021 |
| Annual meeting American Academy of Neurology 2021 | April 17-22, 2021 | Live | aan.com/conferences/annual-meeting |
| 66th Plastic Research Council (PSRC) Annual Meeting | May 20-23, 2021 | Live | ps-rc.org/meeting |
| XXV World congress of Neurology | October 3-7, 2021 | Live | 2021.wcn-neurology.com |
---
Penny for your thoughts?
Thank you to everyone who responded to the "Penny for your thoughts" in issue 6. Results are depicted in the graphs below:
1) How many cases of chronic regional pain syndrome (CRPS) have you caused?



2) How many cases of CRPS have you treated?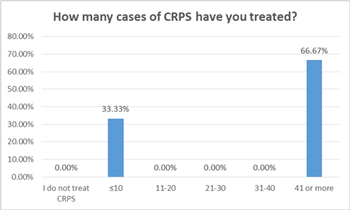 1) How many cases of chronic regional pain
syndrome (CRPS) have you caused?
2) How many cases of CRPS have you treated?
Now for the next figurative penny...

Results will be shared in the next issue of Synapse!
---
A. Lee Dellon, MD, PhD
Introducing our newest column to highlight the creative expressions of our membership...
Please
send us
your non-clinical artistic endeavors—visual, text, audio… anything! Nerve not necessary here—we want to highlight our very talented members!
Enjoy this contribution from Dr. Lee Dellon
.
---
Show me the money... research money!
Do you have great ideas? Do you love science? Well, then get your projects funded!!! Translate your ideas to projects! Create data to help us all! The ASPN Grants Committee has compiled valuable information to help fund your nerve-related science... follow the link to learn more! #scienceiscool
See the ASPN list of peripheral nerve funding sources!
---
I know you!
Here they are... your fearless 2020 ASPN Executive Council
---