Gregory Borschel, MD
Dear ASPN Members and Friends:
I am looking forward to seeing everyone "in 3-D" again in Carlsbad, California. Carlsbad will be a special reunion location, because our group, along with AAHS and ASRM, will have the run of the entire property, so it will provide a smaller, personal feel with the right ambience to reconnect with everyone. Located in sunny San Diego County, Carslbad is home to Legoland, IT, medical device development and … golf equipment manufacturing.
Foreward to the Synapse Sensory Issue:
I want to thank Alison Snyder-Warwick for this special Sensory Issue of Synapse, featuring sensory nerve reconstruction and regeneration concepts, ideas, operations and research. I first learned about sensory nerve reconstruction during my time under Susan Mackinnon, who exposed me to digital nerve transfers between the sensory branches of the median and ulnar nerves. Since that time, I became interested in other targets for sensory reconstruction, including the branches of the trigeminal nerve. Providing sensory reconstruction to insensate regions is often a major patient concern, and it has become a hot topic. One form of trigeminal reconstruction, "corneal neurotization," was pioneered by ASPN Founding Member Julia K. Terzis. Lack of corneal innervation leads to neurotrophic keratopathy, in which patients develop corneal ulcers and low vision due to corneal scarring. Transferring new axons into the cornea interrupts this otherwise intractable and inevitable march toward blindness that affects 1/2000 worldwide. In even greater numbers, sensate breast reconstruction, sensate RPNI / TMR, and other modalities hold promise in delivering better outcomes to our patients and provide new avenues for research and development, as noted in this issue of Synapse.
@NerveNerds: ASPN on Instagram
Around the world, 1500 people have started following ASPN on the Instagram account @NerveNerds. Thank you to committee chairs Kevin Zuo (Toronto) and José Telich (México City) and the Tech Committee members for their efforts in rolling out ASPN's first active online social media presence. Want to join the team and help? Any member is welcome. Just message @NerveNerds on Instagram.
Sincerely,

Greg
---
Did you see... the 2021 Nobel Prize in Physiology or Medicine was awarded jointly to David Julius and Ardem Patapoutian "for their discoveries of receptors for temperature and touch". Read more about their tremendous contributions here
Press release: The Nobel Prize in Physiology or Medicine 2021
. Just in time for the Fall 2021 issue of Synapse... "It all makes sense!"
Sensory reconstruction... we need it from head to toe! This article highlights just a little work ASPN members (or soon to be members) are doing to restore sensation. Can you feel it? Read on see sensory reconstruction work being done on the eyes, the lower lip, and sensation in the breast.
Read Full Article
---
Welcome new recruits!!!!
Rachel Guest, MD
Rachel Guest, MD is a PGY-4 integrated plastic surgery resident at the University of Kansas Medical Center. Her interest in hand and peripheral nerve surgery began in medical school after she completed a self-designed hand rotation in her fourth year. Since then, her passion for the field has continued to blossom through continued exposure. Her research interests include nerve regeneration and microsurgical outcomes. Outside of work, she enjoys cooking, traveling, and long-distance running.
Dr. Samarth Gupta
I just finished my Plastic Surgery Residency from SMS Hospital, Jaipur. Having travelled across 6 states in India for my education, I now look forward to crossing the borders for further experience. Following this, I will join fellowship in breast reconstruction in the UK and hope to travel to the US for more experience.

Apart from work, I love playing the guitar and painting oil on canvas.
Kauser Ali, MD
Kausar Ali graduated with her medical degree from Baylor College of Medicine in 2018. She is currently a fourth-year integrated plastic surgery resident at Baylor College of Medicine and is interested in pursuing hand surgery fellowship. Throughout her training, she has been exposed to a variety of reconstructive procedures, particularly at the county hospital, and is eager to learn more about hand and peripheral nerve surgery as it applies to brachial plexus trauma, extremity wounds, and oncologic reconstruction. She looks forward to being a part of ASPN to collaborate and learn from the members.
Sofija Pejkova MD, PhD
Dr. Sofija Pejkova is the primary faculty member at the University Clinic for plastic and reconstructive surgery, Skopje, North Macedonia. She trained in General Surgery and Plastic and reconstructive surgery. Her focus is Hand Surgery and Peripheral Nerve Surgery. She then spent additional time training with Prof. Dr. Oskar Aszmann in Vienna, Austria. Dr.Pejkova is supporting both research and clinical activities focussing on nerve reconstruction as well as to introduce novel ideas and techniques in peripheral nerve surgery in North Macedonia.

Hope to meet you in the near future.
Tara Sara Saffari, MD, MSc
Tara Saffari is a PhD Candidate at the Radboud University Medical Center in the Netherlands aspiring to become a Plastic Surgeon. After completing Medical School and a Master's in Health Care Management in the Netherlands, she recently started her research fellowship in the Neural Regenerative Research Laboratory in Mayo Clinic, Rochester, MN, USA as part of her PhD. Her research investigates the role of stem cells, angiogenesis and tacrolimus in enhancing peripheral nerve allograft outcomes. Her clinical and research interests are peripheral nerve surgery, hand surgery, diversity, and education. She is a proud member of the ASPN Social Media Committee.
---
Did You Know
There are four types of mechanoreceptors within the skin that allow perception of different characteristics of touch:
Pacinian corpuscles: Located deep within the dermis, these lamellar structures detect vibration and deep pressure. They adapt quickly and have large receptive fields.
Meissner's corpuscles: These rapidly adapting receptors help with sense of movement between the skin and another surface. They have small receptive fields and are helpful with sensing texture. Meissner's corpuscles reside in the epidermis.
Ruffini endings: These structures are located within the dermis, are slowly adapting, and have a large receptive field. Ruffini endings help sense skin stretching and finger movements.
Merkel's discs: Ever wonder how you could feel an edge or point on an object? Well, you can thank your Merkel's discs for that ability! They are located in the border between the dermis and epidermis. Their spatial resolution is less than that of Meissner's corpuscles. They are slowly adapting and help process information about shape.
***Added bonus: Non-myelinating Schwann cells can be found in Pacinian and Meissner's corpuscles!
---
Coding Corner
Below are some tips on coding TMR procedures for new coders from the ASPN Coding Committee.

Use either the pedicled nerve transfer code (64905) or the nerve suture code (major peripheral nerve is 4856) depending on the surgeon's opinion of the surgical procedure. The surgeon should specify this in their note, rather than TMR, as there is no code for TMR.

Currently, TMR is coded as pedicled nerve transfer, first stage (64905), as noted above. This will eventually change, as TMR is becoming too popular to stay under the RUC/CMS radar, especially if people start using it in the Medicare/Medicaid population for diabetic amp and such.

When that happens, it will likely cause the whole family of codes to be evaluated and the RUC will survey, which will lead to decreased reimbursements across the board. There needs to be Level 2a evidence for TMR to justify a CPT new code application.
---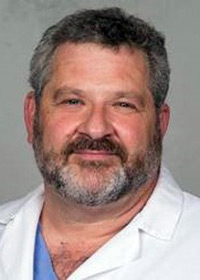 Aron Wahrman, MD, MBA
Forgotten Fascicles
(Occasional notes from an unapologetic bibliophile and indulged husband)
By Aron Wahrman, MD, MBA
A Surgeon of Many Talents and Eponyms
Most of us are familiar with the medical publisher WB Saunders and their many "Clinics" series covering almost all the specialties (Surgical Clinics , Clinics in Orthopedic Surgery, Medical Clinics ...Clinics in Plastic Surgery, Hand Clinics, ….Pediatrics, etc, etc). When these wonderful quarterly journals arrive they almost announce their long-recognized importance by being appropriately bound in hardcover. Each issue was typically devoted to a particular topic, but if you looked at the earlier "Clinics", especially in Surgery, each issue came out of a particular city, with contributors writing on a variety of topics. The genesis of "Clinics" is quite fascinating and was propulsed by the wide and singular talents and innovation of one man, whom no less than William Mayo called "the surgical genius of our generation'.
Read Full Article
---
Upcoming meetings around the globe
American Society for Peripheral Nerve (ASPN) | January 14-16, 2022 | Omni La Costa in Carlsbad, California
Join the ASPN January 14-16, 2022 in Carlsbad, California for its Annual Meeting! The preliminary program, registration, hotel, and COVID-19 safety policy information is currently online at https://meeting.peripheralnerve.org/.
International Facial Nerve Symposium | April 28-30, 2022 | Seoul Dragon City Convention Center in Korea http://ifns2022.org/
Plastic Surgery Research Council | June 8-12, 2022 | Omni King Edward Hotel in Toronto, Canada | https://ps-rc.org/meeting Abstracts are being accepted until November 28, 2022!
---
Penny for your thoughts?
Thank you to everyone who responded to the "Penny for your thoughts" in issue 9. Results are depicted in the graphs below.
Aside from the "burner" or "stinger" what are the most common nerve injuries in athletes?

The exact nerve injured is dependent upon the sport played. In a retrospective review of peripheral nerve injuries in athletes, 88% were located in the upper extremity. Nerve-related injuries most commonly occur in baseball, football, volleyball, and snow sports (Lolis, Falson, and Beric 2018). Median nerve injury is associated with compression and repetitive loading, such as with weightlifting. The peroneal nerve is the most commonly injured nerve in the lower extremity. Injuries result from repetitive lateral traction (such as in soccer) or associated with ligamentous knee injuries. Axillary nerve injuries are common with anterior shoulder dislocations.

Lolis, Falson, and Beric: https://doi.org/10.1016/B978-0-444-63954-7.00038-0


Have you ever treated a nerve injury in an Olympic athlete—active or retired?
Now for the next figurative penny...
Would you be interested in a peer-reviewed publication section in Synapse? (click to respond!)
---
Introducing our newest column to highlight the creative expressions of our membership...

Please send us your non-clinical artistic endeavors—visual, text, audio… anything! Nerve not necessary here—we want to highlight our very talented members!.
A. Lee Dellon, MD, PhD

Mr. PERIPHERAL NERVE MAN—by Lee Dellon


CHORUS (all)

Hey Mister Peripheral Nerve Man save some time for me,
I'm not sleeping, and there's no one else I'm going to.
Hey! Mister Peripheral Nerve Man can I see you soon,
With my tingling, burning symptoms, I'm coming to you.

VERSE #1 (all)

Now I'm wakened every evening; my feet feel like sand,
There's buzzing in my hands.
Oxycontin, Neurontin but still not sleeping.
My weariness amazes me, I can't stand on my feet,
There's no more pain "docs" to meet,
And my nerve conduction studies are still normal.

CHORUS (all)

VERSE #2 (all)

Take me on a trip upon your magic surgeon's ship,
My senses have been stripped, my hands can't feel to grip,
My toes too numb to step, await your heeling hand's special touch.
I'm ready for my decompressions, ready to neurolyse, no matter what the price!
Cast your anesthesia spell my way, I promise to go under it.


MUSCIAL INTERLUDE (Cynthia)

SOLILOQUY (Lee)

Then take me disappearin' to clear the smoke rings from my mind,
So when I 'wake I'll find, thawing of frozen toes,
No more haunted, frightened woes. Yes, I can walk again!
Play ball with a friend! Regain balance! Thanks to you.
Then I'll dance beneath the diamond sky, waving my hands free.
Thanks to you doctors and Lee. Circled by friends who see
My memory of pain driven beneath the waves.
I will now enjoy my days , thanks to you.


Chorus (all)

Bob Dylan's Tambourine Man, recorded , January 1965
Modified by A. Lee Dellon, MD, 09-25-04
Performed 10-02-04, Lake Las Vegas, Nevada
Second Reunion of the Dellon Institute for Peripheral Nerve Surgery Fellowship Group
---
Show me the money... research money!
Do you have great ideas? Do you love science? Well, then get your projects funded!!! Translate your ideas to projects! Create data to help us all! The ASPN Grants Committee has compiled valuable information to help fund your nerve-related science... follow the link to learn more! #scienceiscool
See the ASPN list of peripheral nerve funding sources!
---
I know you!
Here they are... your fearless 2021 ASPN Executive Council
---